About: Black and Decker Electric Lawn Mower
---
---
A Black and Decker electric lawnmower is one of the most well-known brands in the business. Thanks to their user-friendly controls, they offer the tools needed for quality yard work and are easy to use. Black and Decker Lawn Mower is a great tool for maintaining healthy lawns in spring and autumn.
Black and Decker BEMW472BH is a 10-amp electric mower with a 15-inch cutting width; it is an entry-level lawn mower specifically aimed at small and medium-sized lawns. In this Black + Decker BEMW472BH Review, we will learn about the pros and cons of this great lawnmower and the reason to buy it.
Black + Decker Lawn Mower Product Specifications
| | |
| --- | --- |
| OEM | Black + Decker |
| Model | BEMW472BH |
| Cutting Width | 15 inches |
| Electric motor | 10-amp |
| Grass Box Material | Mesh |
| Adjustable Height | 1 – 3 inches (6 settings) |
| Self-Propel | No |
| Product Weight | 38.9 pounds |
| Dimensions | 31 x 18 x 15.6 inches |
| Warranty | 2-years |
---
Black and Decker Electric Lawn Mower USA 2021 Features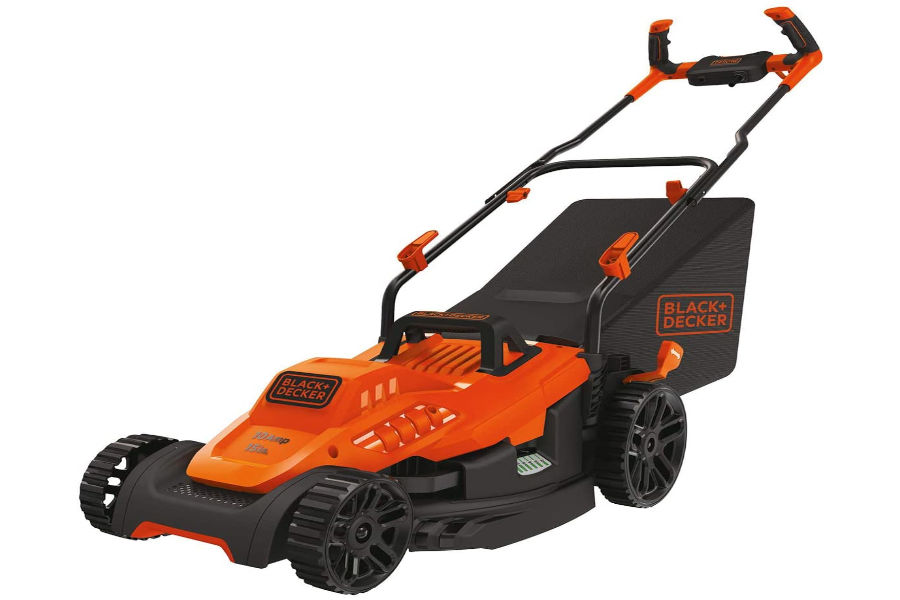 Power
The Black and Decker Lawn Mower is a lightweight corded mower with a 10 Amp motor and 15-inch cutting width. The motor incorporated in the lawnmower is sufficient enough to tackle tough terrains.
Design and Build Quality
The Black and Decker BEMW472BH features a distinctive handle design from the traditional mower with a T-shaped handle. The handlebars ergonomic design and rugged tyres make it easy and convenient to push.
Assembly
These days lawn mowers come in the pre-assembled form, and Black and Decker BEMW472BH isn't any different; all you need to do is attach the handle and start using it. It also comes with a user manual just in case you need it.
Grass Catcher Box
The 12-gallon grass container is ideal for a mower this size. It has a steel frame to keep it in shape and is mesh-constructed. The box has a high flow airflow, which allows for an efficient collection of grass cuttings.
Cutting Blade
The wing structured steel blades stand out compared to the regular blades found on most lawnmowers; the unique construction improves grass clipping by more than 30% than normal blades. These blades have a cutting width of 15 inches in length and help keep the mower compact and easy to use. The sharp edges are high quality and are easily replaceable or sharpened.
---
Black and Decker BEMW472BH Review – Advantages and Disadvantages
Advantages
Excellent Trimming
The Black and Decker Lawn Mower packs a punch due to its 10-amp electric motor; it can easily take care of your lawn's maintenance without any problem; in fact, it can handle medium-sized grass without any hiccups. Just don't expect wonders with very tall grass with this lawnmower.
Lightweight Construction
The Black and Decker BEMW472BH weighs mere 40 pounds; due to its lightweight construction, the lawnmower is easily manurable around the trees, flower pots or while using it in tight spots. The rugged wheels help when used on uneven surfaces; the wheels are made of high-quality plastic and should last long without replacement.
Unique Bike shaped handle
That is a standout feature of the Black and Decker Electric Lawn Mower; its unique design provides great comfort during use than the regular straight handlebar found on most electric lawn mowers in the market.
Adjustable Cutting Height
It comes with height-adjustable options for precise cutting; with six adjustable height options, you can trim grass right from 1 inch up to 3 inches easily.
Button Start Option
The Black and Decker BEMW472BH is easy to use; it comes with a button start option (so, no more waiting); all you need to do once it's running is to walk with the mower and complete your yards maintenance. If you haven't used the Corded model before, I bet you will take time to get accustomed to them as they differ in working compared to their cordless counterparts.
Easily Foldable
It is easy to fold the lawnmower by losing the fasteners midway down the handle; once done, it takes little space and can be easily stashed in your garage or shed. Although this is a great feature, it does not fold as well as other models.
Amazing Customer Support
When things go awry, a product warranty saves your day! Black and Decker are one of the companies that honor product warranty; in fact, I have come across many cases where customers are provided replacements of defective products or missing parts. That is a huge plus point when you compare it with its peers.
---
Disadvantages
Grass Box Issues
Black and Decker BEMW472BH has a small grass box with the mower, but that isn't surprising, as this model is designed for small or medium-sized lawns. Secondly, the discharge chute gets choked while trimming, making it difficult for the mower to bag the clippings properly.
A simple solution to this problem is to avoid mowing grass when it is wet, which will reduce the chances of grass clogging the discharge chute.
Missing Extension Cord
It doesn't come with an Extension Cord; either you have to buy it separately, or you can use your old extension cord at home. That is the case with most of the OEM's as they find different ways to minimize the product cost.
Not ideal for Weed
As we have mentioned earlier, due to a 10-amp electric motor, the Black and Decker Electric Lawn Mower is underpowered for weeds and long thick grass. It is most suitable for the small or medium-sized lawn with regular grass.
---
Black and Decker Lawn Mower provides a lot of freedom when it comes to trimming the lawn. If you have ever tried to cut your grass by hand, you know how much trouble that can be. It's a time-consuming process, not to mention difficult to keep your focus when your hands are full.
That is particularly true if you have a large lawn to cut. A push mower is easy to use and allows you to mow your lawn in a fraction of the time. It also keeps your grass very clean, eliminating dead grass and other debris from clogging the cutting paths.
Another advantage to push mowers is the ease with which they can be switched on. When you're done cutting, switch them off, and walk away. There is no need to put up with a loud whistle or struggle with the lawnmower to start it.
It also doesn't require much effort on your part to push it. All you have to do is stand there watching it run.
---
The blades of a Black and Decker mower are made out of durable metal. The blades won't easily rust, which is especially important if you live outside of the country. The edges won't become damaged by rain or snow, either.
The blades are also covered with plastic not to be damaged by things like twigs, leaves, or bugs. The wing-shaped blades are made so that the blades can mow and cut safely at the same time without any one of them being at a disadvantage.
An electric-powered lawn mower is also easier to maintain than a gas mower. A gas-powered machine will require that you make sure that it is kept properly lubricated. As you use the device, the oil will build up. This oil will prevent the cutting blades from cutting effectively. By using a gas-powered mower, you won't have to worry about this hassle.
---
One of the best things about the Black and Decker lawn mowers is the ease of assembling them. Even people with very little knowledge of how to build a machine can easily put one together.
These machines are designed to be easy to repair. You can even take apart the blades to replace broken blades.
The parts are also interchangeable. For example, you can change the component instead of replacing a belt or chain whenever the mower needs to be changed. Many people choose to do their maintenance and repair to save money.
When you consider how much money you can save over the life of the electric lawn mower, this little extra work can be well worth it. Most Black and Decker electric mowers come with a two-year warranty, making them far more durable and reliable than their other counterparts.
---
Conclusion – Black and Decker Electric Lawn Mower USA 2021
While choosing an electric mower for your yard may seem overwhelming, it is made easier when you consider all the benefits offered by the Black and Decker brand. This company has long been known for providing high-quality products, and they continue to do so today.
Black and Decker BEMW472BH does its job efficiently; as mentioned earlier, it is perfect for small and medium-sized lawns. You won't regret using this lawnmower for regular lawn maintenance; though issues with the grass box still linger overall, it is a good entry-level lawn mower machine.
If you need a new lawnmower, you can check this model on Amazon or another online store. So, that concludes the Black and Decker Electric Lawn Mower USA 2021 topic. Do drop your comments and suggestions on the article in the comments section below.
---
FAQ
What is the material of the Collection Box?
It is made of a mesh cloth box.
What is the product warranty?
The Black and Decker BEMW472BH comes with two years limited warranty against product defects.